Since Rotterdam was mentioned in the Lonely Planet must visit cities, more and more new shops, restaurants and pop up stores have opened. There are more options now for vegans and vegetarians and many restaurants focus on healthy and fresh food with local and seasonal ingredients. When I am in Rotterdam, these are my favorite places to go for either breakfast or lunch. All of these spots serve plenty of healthy vegetarian dishes, theres a good atmosphere, nice interiors and good locations for popping into the city before or after food.
Newly opened: Rolphs Deli by HMB
Rolphs recently opened in Rotterdam South, a great location near the famous Erasmus Bridge, in a very upcoming area with new apartments and where restaurants open frequently. The founders of Rolphs Deli were inspired by world cities like London and New York and based their concept on this. The inspiration comes back into the menu as well as the decor of the restaurant. Rolphs has a lovely well thought of interior, where the floor tiles pattern matches the napkins and where nice industrial tables are combined with a long sofa on the side.
The Deli serves breakfast and lunch, as well as fresh pressed juices and several types of shots for health and beauty. The menu is simple but offers something for everyone; from sandwiches, salads and bagels to sweet treats like pancakes and waffles, you are spoilt for choice.
SUE
SUE represents 'sweet without sugar' and aims to make the best treats that are sugar-, gluten- and lactose free, and some even completely vegan! According to SUE, a healthy lifestyle does not mean you can't enjoy sweet treats anymore! Their restaurant is located on the Karel Doormanstraat, near Rotterdam Central station, so a convenient location if you want to see the center as well.
This is my favorite spot for a healthy breakfast as their smoothie bowls are just the best! Then after breakfast I take some of their amazing treats home for my family. They have extended their menu in the restaurant, so you will be spoilt for choice whether you visit for breakfast or lunch!
(Picture from their Instagram)
Bertmans
The ever so popular Bertmans is growing and will soon open a second location! The restaurant has an amazing breakfast and lunch menu and since a few months they also opened for dinner, serving healthy, nutritious food based on the ingredients that are in season.
Again I love to go here for a healthy breakfast or brunch, especially when the sun's out they have a nice terrace along along the water. If you go here, try the buckwheat pancakes with cashew cream and berries, the fruit crumble with cashew cream and granola, or if you're really hungry go for the brunch platter which includes toast and avocado, pancakes, yoghurt and hummus flatbread!
The Tea Lab
The first time I went to The Tea Lab was for a vegan high tea. They serve the most amazing (and very big!) platters full of treats, from yoghurts with fruit compote to vegetables, salads, bread and dips, cakes, energy balls and much more- a true vegan heaven for a high tea- and it also looks amazing. Despite what the name might suggest, the Tea Lab has much more to offer than just teas. The extensive menu goes from fresh teas to different types of coffee (vegan as well!), fresh juices, smoothies ice teas and lemonades. Foodwise there's more than enough choice as well, for vegans as well as non- vegans theres plenty of options ranging from sandwiches and salads to snacks and sweet treats. The perfect place if you are vegan and meeting up with non vegan friends or the other way around, because the Tea Lab has enough options for everyone!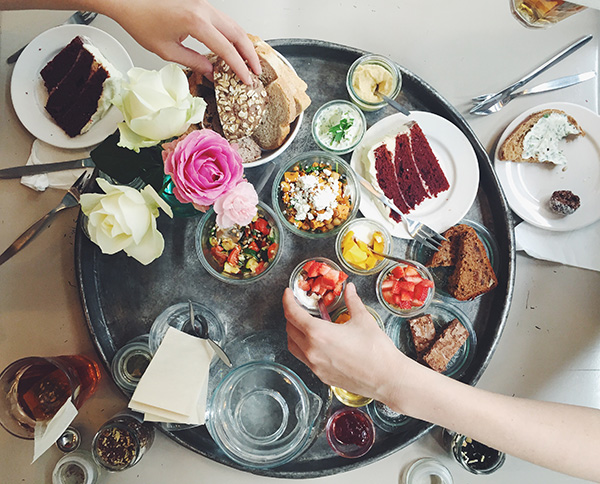 (Picture from their website)